Submitted by Claire Tomashek, DC
NorthLakes Community Clinic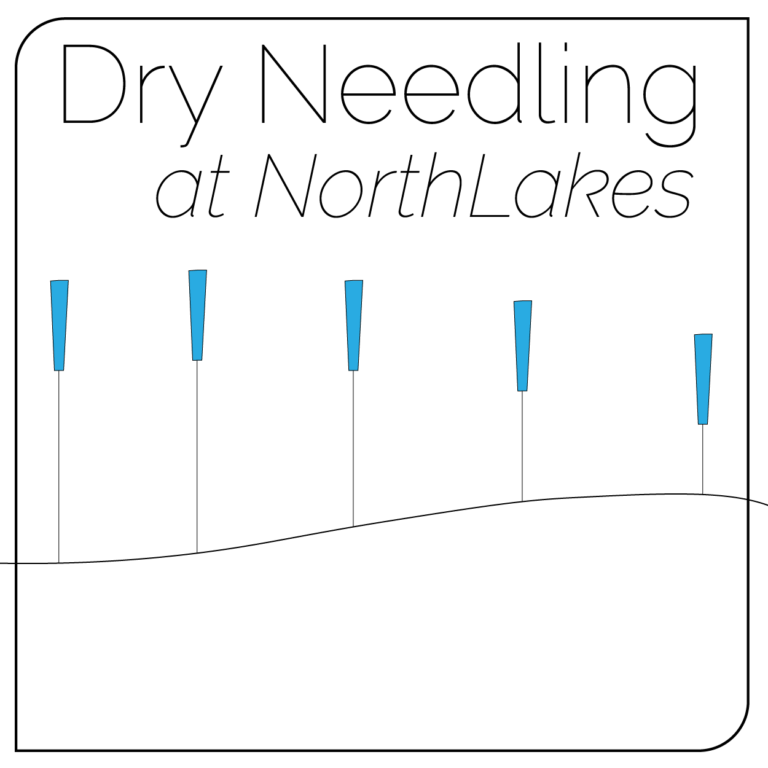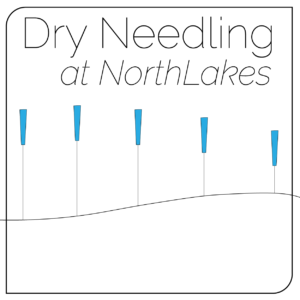 Many people are familiar with the term acupuncture, however, many are not familiar with the term dry needling and what it entails. Acupuncture and dry needling have a lot of overlap but differ in the theory behind each treatment. Acupuncture stems from Chinese medicine and involves meridians and opening up the flow of Qi (energy). Dry needling comes from Western medicine and was first used to treat myofascial pain. It has since expanded to treat a wide range of neuromuscular and musculoskeletal pains and dysfunctions.
Dry needling can be of great benefit for many conditions including both acute and chronic conditions. Some examples are tight muscles, sprains and strains, overworked bodies that need recovery, to activate muscles that aren't being utilized, to fatigue muscles that are being overused, reduce swelling, reduce pain, and can even aid in the healing of scars. Dry needling creates small microlesions in the tissue(s) that are worked on during the treatment. The body responds to these microlesions as any other trauma in the body and stimulates the healing process. This can be great to get an extra boost for the healing of acute traumas, but can also be a great way to restart the healing process with chronic issues that seem to be stuck- not progressing and completing the healing process. Dry needling also helps decrease pain by stimulating chemical pathways in the body. In fact, it has been shown that dry needling treatments for knee osteoarthritis have decreased pain symptoms for up to four months in some patients. The techniques utilized during the treatment, and the needle itself, can be manipulated to achieve outcomes from the above list.
Dry needling utilizes the same needles as acupuncture. The needles are thin filiform needles that are solid and therefore do not inject any substance into the tissue. Needle length is determined by safety, patient body size, and location of treatment. The needles are inserted into muscular tissue, including areas referred to as trigger points, as well as other soft tissues including ligaments, tendons, fascia, capsules, and peri-neural tissues. Many studies show a treatment time of 10-30 minutes to be most effective. The needle can be manipulated while inserted in the tissue in order to provoke different outcomes and responses from the tissues.
During a treatment, a number of needles will be inserted into muscle and other soft tissue. Initially, patients feel a prick as the needle penetrates the skin, however, once the needle is inserted to the treatment depth, many patients don't feel its presence. Treatment may elicit a localized twitch response in which the muscles around the needle contract. This is thought to be beneficial to the treatment process and its outcomes. Once the treatment is complete, all the needles will be removed before the patient gets off the treatment table. After a treatment, you can expect to experience decreased local and referred pain, increased range of motion, and increased healing. Some muscle soreness can be expected as well so stretching and hydration are important after treatment.
As with any treatment, there are contraindications and precautions that need to be taken into consideration when determining if a patient can be dry needled or not. Dry needling should not be utilized for any patient who is currently pregnant, has a metal allergy, skin lesion or rash in the area of treatment, a blood or systemic disease, a compromised immune system due to a disease such as HIV or hepatitis B and C, and those with a true needle phobia. There are other conditions that will also affect the ability and/or location where dry needling can be performed. A proper history will be taken before treatment to ensure each patient is a good fit for dry needling.
At NorthLakes, we offer dry needling in Park Falls and Lakewood as part of our chiropractic program. If you are interested in scheduling an appointment or learning more, please give the clinic a call.
Claire Tomashek is a chiropractor at NorthLakes Community Clinic – Park Falls and offers dry needling as part of her practice.