To respond to the health care needs of our communities with an integrated array of quality services and actively remove barriers to care.
These words drive the work that NorthLakes Community Clinic does daily. The mission, written by a patient-majority board of directors, pushes the staff to go beyond traditional healthcare service delivery to serve patients throughout northern Wisconsin. Today, these words have more meaning than ever as clinic workers create a multi-tiered approach to responding to COVID-19.
Initial Response:
"When COVID-19 hit, our immediate response was keeping our patients and staff safe, while still finding ways to continue to serve them," says NLCC CEO Reba Rice. "People's health care needs increase during a time of crisis and we knew we had to find ways to respond to those needs as quickly as possible."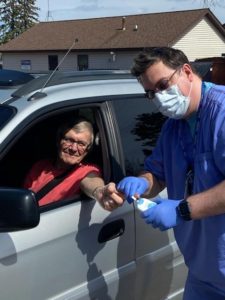 The response was quick. Within days of the initial Safer At Home order, NLCC began offering virtual visits for behavioral health and medical appointments. Today, that's expanded to include dental, chiropractic, optometry, pediatric therapies and other services as well. In an effort to reduce clinic traffic, pharmacy services began curbside pickup and mailing prescriptions to patients. Site operation teams quickly assembled work flows and processes to provide COVID-19 testing based on the state's recommendations. As temperatures warmed up, temporary curbside laboratories were set up for patients needing lab work. Meantime, a limited number of services remain available in-clinic such as recovery, prenatal, medical, emergency dental and urgent chiropractic care.
"We receive phone calls daily asking if our clinics are closed," says Jason Akl, COO. "We are limiting who can come into the clinic and we are triaging patients as part of our safety protocol, but we want the community to know ALL of our 14 clinics throughout northern Wisconsin remain open. We are 100% committed to providing all of our services, we just need to modify how we're doing it to ensure our patients, staff and community at-large is safe."
This plan doesn't just include clinical services. It also includes community outreach. Community Health Workers, which serve patients and non-patients, are now offering virtual appointments to help people navigate some of the non-clinical changes that are impacting their health. This includes health insurance enrollment, securing food or transportation, connecting with social services, addressing isolation, or getting connected to healthcare as needed.
"This is a challenging time for everyone," Rice says. "But, for some people the added economic stress, isolation or lack of resources can be debilitating. By offering this support, we hope to connect people with the resources they need right now, while still practicing social distancing."
The clinic also initiated an online COVID-19 Community Resource. Found on the clinic's website, it is a simple form that allows anyone living in the northland to request assistance. Assistance can include tips on how to get what you need while practicing social distancing, a brief conversation with a behavioral health therapist for some tips on managing anxiety and stress, self-care and wellness tips, navigating health insurance coverage, COVID-19 healthcare concerns or connecting to primary care at NLCC.
"This resource is our way of getting additional information about COVID-19 into the communities we serve to do our part to flatten the curve," says Rice. "This is not a crisis line or a replacement for 911 or the United Way hotline at 211, but instead a service that will complement existing resources."
This resource is funded in part by a grant from Advancing a Healthier Wisconsin Endowment (AHW). The grant is designed to support health care and community agencies in the fight to prevent the spread of novel coronavirus COVID-19 across Wisconsin.
What's next?
Looking to the future, clinic staff continuously evaluates how to best meet patient needs. Virtual Visits cannot reach everyone and for those who have chronic disease or other on-going healthcare needs, continuing to provide a safe in-clinic visit remains a top priority.
"Our number one priority remains the safety of our staff and patients, but we also recognize that delaying care for some patients is unsafe and in some cases, more dangerous than the potential risk of exposure," Dr. Deb Dryer, NorthLakes' Chief Medical Officer, says. "As a Community Health Center, we have a responsibility to continue serving these patients and ensuring all of their health care needs are met safely."
Over the coming weeks, the clinic will slowly begin expanding the services offered in-clinic. Staff is committed to working with patients individually to create safe, evidence-based appointments that best meet the needs of that individual.
To achieve this, a number of safety precautions will remain in place. This includes things like screening and triaging individuals before they enter the clinic, limiting visitors, requesting patients wear masks, and limiting the time people are in areas such as waiting rooms or other shared spaces. Staff will continue to use the appropriate level of PPE, depending on the appointment type. There will also be fewer available appointment slots during the day to ensure enough time to disinfect rooms between visits and manage the overall traffic in the clinic. This safety plan will continue to be evaluated on a regular basis.
"There is no one-size fits all approach or answer to how we will continue responding to the needs of the community in the coming months," Rice says. "Instead, we will work with our community partners, patients and staff to provide the best care possible during this difficult time."
NLCC continues to accept new patients during this time and encourages existing patients to call the clinic if they have any questions or concerns about their care.