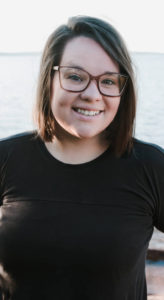 Ashland, Wisconsin – NorthLakes Community Clinic is pleased to announce that Beth Hamus OTR/L has joined the team and will be providing Occupational Therapy to children at our Downtown Clinic in Ashland.
Hamus earned an associate degree in Occupational Therapy Assistant Program from Wisconsin Indianhead Technical College in Ashland and a bachelor's degree from the University of Wisconsin – Green Bay with a double major of Psychology and Human Development. Her Master's Degree of Science in Occupational Therapy was earned from Concordia University of Wisconsin in Mequon, WI.
Hamus has experience in several pediatric areas of Occupational Therapy including sensory processing/integration, whole body movement/coordination, strength, mindfulness, self-regulation, thinking/cognitive skills, and visual perception.
"I try to incorporate mindfulness, movement, and nature as much as possible when working on child development," said Hamus when asked about her experience and skills.
"I love helping children live their best life possible. It's truly the best to help them grow and develop in life, watch them discover the magic of childhood and achieve a new skill or access a part of life they were struggling with. I also enjoy giving parents the tools and knowledge they need to help their child attain wellness."
Hamus brings experience as a Certified Occupational Therapy Assistant from several positions to her practice at NorthLakes, including work at Rennes Health & Rehabilitation in Rhinelander, WI and CESA #9 in Tomahawk, WI.
Outside of work, Hamus enjoys spending time outdoors at the lake and hiking with her husband, toddler and their dog Charlee, as well as exploring unknown places. They love checking out little local spots, especially local eateries.
To schedule an appointment with Hamus, contact our Ashland Downtown Clinic at: (715) 685-2200.