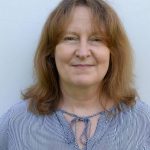 Ashland, Wisconsin – NorthLakes Community Clinic is pleased to welcome Nancy Cholwek to the Downtown Clinic in Ashland to provide Speech Therapy Services. She will be seeing children of all ages.
Nancy received her bachelor's degree from Northland College in Ashland, Wisconsin and her master's in communication disorders from the University of Wisconsin – Eau Claire.
"I love working with children and helping them make progress with their communication skills," Nancy shared when asked about speech therapy. "We work with articulation, feeding issues, fluency, voice, and language delays or disorders."
Nancy has worked in a variety of settings and with a variety of needs with both adults and children.  She is a member of the American Speech Language and Hearing Association.
She is married and has a son that is currently serving in the National Guard. She has two dogs and enjoys the outdoors, including gardening and cross-country skiing.