Turtle Lake, WI – NorthLakes Community Clinic recently purchased a variety of supplies for use in its school-based behavioral health practice from money raised and donated by the staff of CESA 11 (Cooperative Educational Service Agency). NorthLakes works with several schools to provide behavioral health therapy to students right in their school. The school provides a safe and secure space for the student and the provider to meet, and NorthLakes provides the therapist. This works out well for everyone involved including their parents who don't have to leave work to drive their child to an appointment.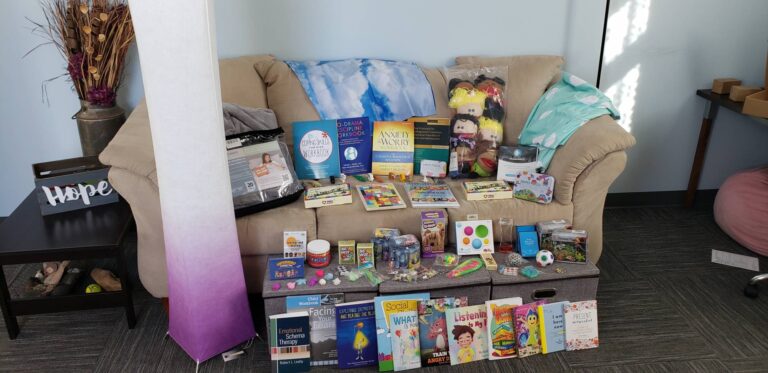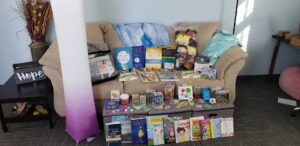 Some of the purchased items include a weighted blanket, multiple social and emotional skill-building games and books, puppets and Lego animals for play therapy, a cool lamp to help with the atmosphere of rooms and decrease dependency on fluorescent lighting, storage bins, Inside Out characters to process emotions, sensory items, curriculum to help run groups, as well as items to help build client's ability to develop body regulation.
"The items that we were able to purchase through the CESA 11 donation will help our young clients learn healthy ways to express their thoughts and feelings, build confidence to tackle their struggles and feel comfortable in a warm and welcoming atmosphere to open up in session," says Jes Springer, director of school-based behavioral health services at NorthLakes, "many of the books purchased will help build these social-emotional skills, as well as the creation of group therapy sessions to increase the availability and variety of services to the districts."
NorthLakes provides school based behavioral health throughout its service area.  The school's that are in CESA 11's jurisdiction and NorthLakes has a presence in are: Barron, Birchwood, Cameron, Clayton, Clear Lake, Prairie Farm, and Turtle Lake, all K-12.
Do you think that you, your child or someone else that you know could benefit from meeting with a behavioral health therapist? Get in touch with NorthLakes by calling 888.834.4551 or learn more about all that we do at nlccwi.org
.